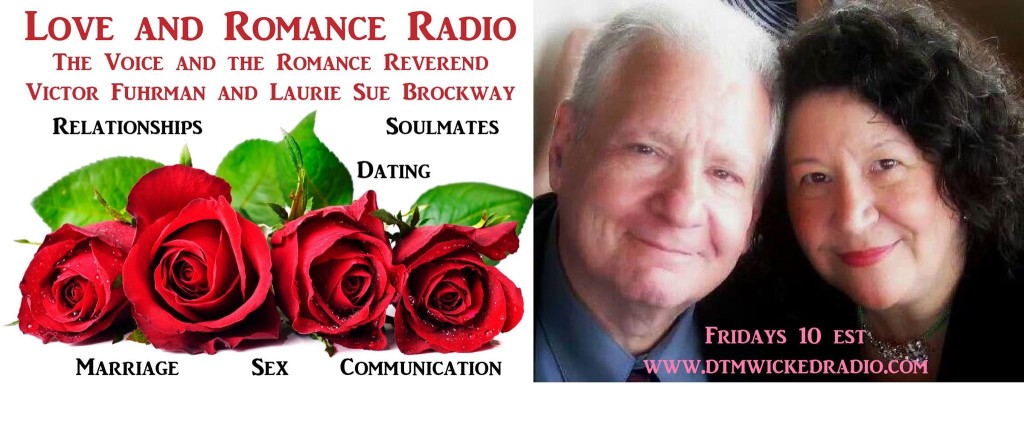 With Victor 'The Voice' Fuhrman and The 'Romance Reverend,' Laurie Sue Brockway
Fans will recognize Victor "The Voice" Fuhrman as the former co-host and producer of Second Sight Radio on the DTM Wicked Radio network.  In this new show, he partners with his wife, Rev. Laurie Sue Brockway, for two hours of lively, fun, and sometimes steamy talk about love and romance.
Join Victor 'the Voice' and Romance Rev. Laurie Sue on Fridays, 10 PM , as they chat with the hottest experts on love, romance, marriage, sex, and spirituality.  Fridays, 10 to 11 PM , on the DTM Wicked Radio Network . It reaches 72 countries world wide and also be found on iheartradio.com.
Recent guests include romance writer Tamara Lush,  romance sociologist Joanna Gregson, sex dream expert Kelly Sullivan Walden, and best selling relationship authors SARK, Arielle Ford, Judith Orloff, MD and Daryn Kagan.
About The Romance Reverend, Laurie Sue Brockway
Rev. Laurie Sue, known to some as The Romance Reverend, is a New York City wedding officiant who has married hundreds of couples and has guided thousands more on their journey to the altar and beyond.
A journalist for many years prior to her ordination, she began her career as a newspaper advice columnist and has been called upon to share her insights on love ever since. She has covered the love, romance, sex, marriage, and weddings beat as a reporter for major magazines and newspapers for many years and her colorful media career includes penning steamy romance books and a stint as Editor-in-Chief of Playgirl Magazine.
She is currently Love, Romance and Wedding Columnist for The Huffington Post. Formerly, she was Love and Family Editor at the award-winning multifaith website Beliefnet.com. She also served as Sexual Health and Relationships Editor, as well as Emotional Health Editor, at EverydayHealth.com.
Rev. Laurie Sue is widely recognized as an expert on interfaith, intercultural, and highly personalized nondenominational weddings, and for helping families reduce wedding stress. New York Magazine lists her as one the top interfaith officiants in the New York.
She is author of more than 15 books, including: Your Perfect Wedding Vows, Your Interfaith Wedding, The Goddess Pages: A Divine Guide To Finding Love and Happiness, and Lakshmi Magic. She is creator of the online course: Find Your Spiritual Soul Mate.
Visit Rev. Laurie Sue at WeddingGoddess.com and YourInterfaithWedding.com.
About Victor "The Voice" Fuhrman
Rev. Victor Fuhrman, MSC, is a healer, spiritual counselor, and author whose deep, rich and sexy voice inspired the radio handle, Victor the Voice.
With his soulful sound, he helps people heal. He also does this through energy work and ceremony.
He graduated from and was ordained through the New Seminary of New York in 1997. And he has been marrying couples in love–and counseling people challenged by love-for 17 years.
He is often called upon by members of the paranormal community to bless their unions, and by many interfaith and intercultural couples to solemnize their vows in creative and loving personalized wedding ceremonies. In addition, he has also been called into the spotlight to perform real weddings. For example, The Knot asked him to officiate a televised celebrity wedding and a horror convention hired him to lead a costumed, Halloween wedding on stage before hundreds of costumed guests.
Perhaps he is best known to audiences for his work with paranormal investigation teams where he specialized in sending earthbound spirits "into the light." He has been featured on A&E's "Unexplained" and Bravo's "Pregnant in Heels."
He is co-author of Pet Prayers and Blessings, a book to help pet owners bless their pets
and also get through pet loss. He is a contributing writer and researcher to Your Interfaith Wedding. The Goddess Pages, Wedding Goddess and was a key researcher for the book Meta-Physician On-Call for Better Health
Victor is creator of EnerVision, a curriculum designed to teach psychic self-empowerment and healing with the emphasis on these things being very natural, rather than supernatural. In support of the work of healers across the country, he's been called upon to testify and share his expertise before the White House Commission on Complementary and Alternative Medicine. He played an important role in helping his spiritual community find healing, spiritual security and feel peaceful in the new world of post 9-11 life in New York City. During that time, he offered meditation groups and spiritual survival counseling and he helped with disaster relief work as a volunteer chaplain serving families and rescue workers affected by the World Trade Center attacks.
A former armed forces broadcast journalist, he is a storyteller by nature, and an inspiring public speaker. He brings unconditional love, compassion and a great sense of humor to his ministry. In addition to his spiritual work and service, he spent more than 41 years in the Compressed Gas and Welding Supply Industry and is a certified welding inspector.
Visit with Victor at victorthevoice.com